Product Overview
Hosmer Mountain Pineapple Soda offers a solid pineapple flavor that is not over-sweetened, yet not too tart. This soda is delicious on its own or when mixed with Hosmer Mountain Orange Dry for an extra special fruit flavor.

Hosmer Mountain Pineapple Soda Features:
Connecticut's Hosmer Mountain sodas are lightly carbonated and not too sweet
Made with water that is crystal clear, pure, high in calcuim, and sodium-free
Since 1912 has been a favorite soda brand of New England
Sweetened with high-fructose corn syrup
12 ounce glass bottles
About Hosmer Mountain Soda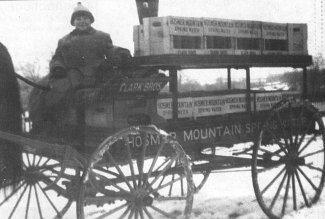 A hometown favorite of Manchester, Connecticut. "Bottled in the land of swift-moving waters" is the script that appears on every label of Hosmer Mountain's sodas now just as it did when the company started in 1912. Although the Potvins are the fourth family to own the company (buying it from the Meyer family in 1958), it is and always has been a small family business. Its ""Mountain Quality Beverages,"" as the company shield notes, are still made the old-fashioned way. The Potvins are proud of their "small-production process," and while that means that "some flavors may be unavailable at times," there are always plenty of varieties to choose from for purchase.
Reviews