Sit Back and Drink It In
Northwoods Soda combines real Roast and Toast Espresso with their famous Wild Bill's Root Beer to create the most exquisite, flavorful and sophisticated coffee soda in the Midwest. Milky, dark chocolate notes followed by creamy vanilla, light acidity, mild cinnamon, and mellow wintergreen. If you like soda, this is excellent. If you guzzle coffee, this is a bottled miracle. And if you like espresso, you should probably take the day off work for this one.
Features of Northwoods Esspresso Root Beer:
Coffee flavored root beer!
Espresso; chocolate; vanilla; mild wintergreen
Made with cane sugar
Made in Northern Michigan
125 calories per bottle
11.5 ounce glass bottles
Roast & Toast's Coffee Roasters (Petoskey, MI)
Roast & Toast's espresso is a blend of some of their finest coffees: Ethiopian Sulawesi, Guatemalan, and Columbian, to bring you a well-balanced yet bold flavor. Mild acidity, complex aroma, dark chocolate, and a strong finish; make this espresso the perfect complement to the smooth, vanilla notes of Wild Bill's Root Beer.
About Northwoods Soda and Syrup Co.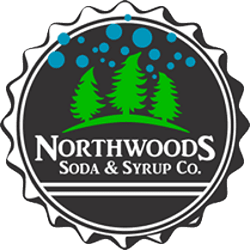 Nestled away along the Lake Michigan coastline is the small town of Traverse City, Michigan. It's the home of a small mom and pop soda syrup and bottling company called Northwoods Soda. For over 25 years Northwoods Soda has been creating exceptional soft drinks in the Grand Traverse Area. Less than 5 years ago they decided to take their years of fountain soda experience and apply it to bottled pop. The result is a handful of rich flavorful beverages that will remind you of a bygone era. Where people didn't pinch pennies and focus solely on balance sheets. One sip and you'll appreciate what a little extra flavor and an extra pinch of sugar can do. We hope that where ever you enjoy Northwoods soda pop you can "Sit Back and Drink it In."