Product Overview
Sit Back and Drink It In
Wow…..talk about a blast from the past! This is reminiscent of a soda that you would find in a 1950's soda jerk. Its creamy, smooth orange flavor is crisp and super refreshing and will quickly become a favorite. Offer the Orange Cream Soda at your next gathering, and watch the smiles as your guests take their first sip.

Features of Northwoods Orange and Cream Soda:
Fun and flavorful just like an orange creamsicle.

Made in Northern Michigan
Made with cane sugar
125 calories per bottle
11.5 ounce glass bottles
About Northwoods Soda and Syrup Co.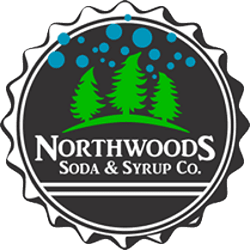 Nestled away along the Lake Michigan coastline is the small town of Traverse City, Michigan. It's the home of a small mom and pop soda syrup and bottling company called Northwoods Soda. For over 25 years Northwoods Soda has been creating exceptional soft drinks in the Grand Traverse Area. Less than 5 years ago they decided to take their years of fountain soda experience and apply it to bottled pop. The result is a handful of rich flavorful beverages that will remind you of a bygone era. Where people didn't pinch pennies and focus solely on balance sheets. One sip and you'll appreciate what a little extra flavor and an extra pinch of sugar can do. We hope that where ever you enjoy Northwoods soda pop you can "Sit Back and Drink it In."
Reviews