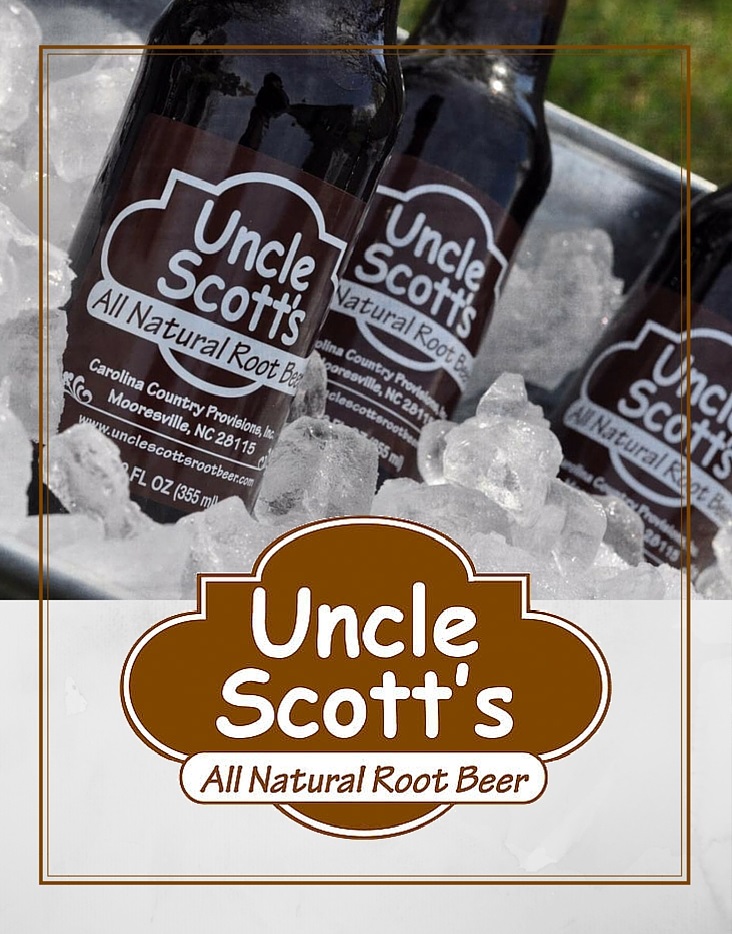 A few well known sodas have their roots in North Carolina – namely Pepsi and Cheerwine. But there is also a local micro-brewed, old fashioned root beer that you should know about: Uncle Scott's All Natural Root Beer. If you're a fan of root beer, you'll love Uncle Scott's All Natural Root Beer. If you're not a fan, you might be after one bottle.
The beverage is the creation of Suzanne and Scott Ramsey of Mooresville, North Carolina. Root beer is part of an old tradition of making beverages from natural things, like the roots and bark of the sassafras tree, as well as the bark of birch and cherry trees. Suzanne and Scott tweaked an old time recipe out of Pennsylvania to develop this robust brew made with cane sugar and natural flavors. It only contains ingredients you can pronounce.
Suzanne says, "We really wanted to go back to an old fashioned flavor." For me it was an instant taste flashback to my grandfather's home brewed root brew from my childhood.
How Did It Start?
The Ramseys didn't intend to make a living from root beer. Suzanne and Scott and Jeff Fleenor launched Carolina Country Provisions as a hobby to make wine from organically grown grapes. They planted a specialty grape vineyard of French and Spanish grapes. Root beer was just going to be a side project until the wine was ready. But a freeze wiped out all 700 of their vines. Scott loved making root beer as a child. So they refocused their efforts on root beer and it took off. Scott explains, "You cook it like you're making beer. It's as complex as making wine.
What's In the Bottle?
Suzanne and Scott are proud of the fact that you can pronounce all of the ingredients: filtered carbonated water, vanilla, cinnamon oil, caramel, wood extract, licorice root oil, anise oil, and natural gum arabic. That's it. No high fructose corn syrup, no artificial ingredients and no artificial preservatives.
We do full-disclosure," says Suzanne. "We've tried to make it as pure and simple as we can."
It took about 18 months to develop the recipe for the root beer. "The root beer has a whole lot going on when it hits your tongue. Some people immediately taste licorice while others pick up on the cherry, vanilla and cinnamon flavors," says Suzanne. It is a hit of real root beer flavor with a slight creaminess and is less carbonated than most soft drinks.
What's In a Name?
The root beer's name came from the reaction of one of Suzanne's nieces when Scott and Suzanne took some of their root beer on a visit to her family in New Mexico. Her niece took a first swallow and declared, "Uncle Scott! This is the best root beer I ever tasted!" Suzanne says. "I said, 'There's our name.'" It's amazing, she says, how many people have an Uncle Scott. "Sometimes you have these magic moments."
Where can you get it?
Mooresville, NC is located approximately 25 miles north of Charlotte. If you are ever in the Charlotte Metro area, you'll find Uncle Scott's All Natural Root Beer in many area grocery stores, specialty shops, and farmers markets. Be sure to pick up a six pack. Until then SummitCitySoda.com will be glad to ship a case to your doorstep. Click Here to Order.
Once you've had the pleasure of enjoying an ice cold Uncle Scott'sRoot Beer, we'd love to hear your comments. Post them on our Facebook page or send to SummitCitySoda@gmail.com .