Posted by Summit City Soda Jerk on Nov 13th 2015
Romano's Italian Sodas is dedicated to recreating delicious Italian sodas so everyone can enjoy them with a sophistication and consistency of creation not found in coffee shops or restaurants. Romano's Italian Sodas offer the refreshing flavors of Italy right here in the US.
This is their story.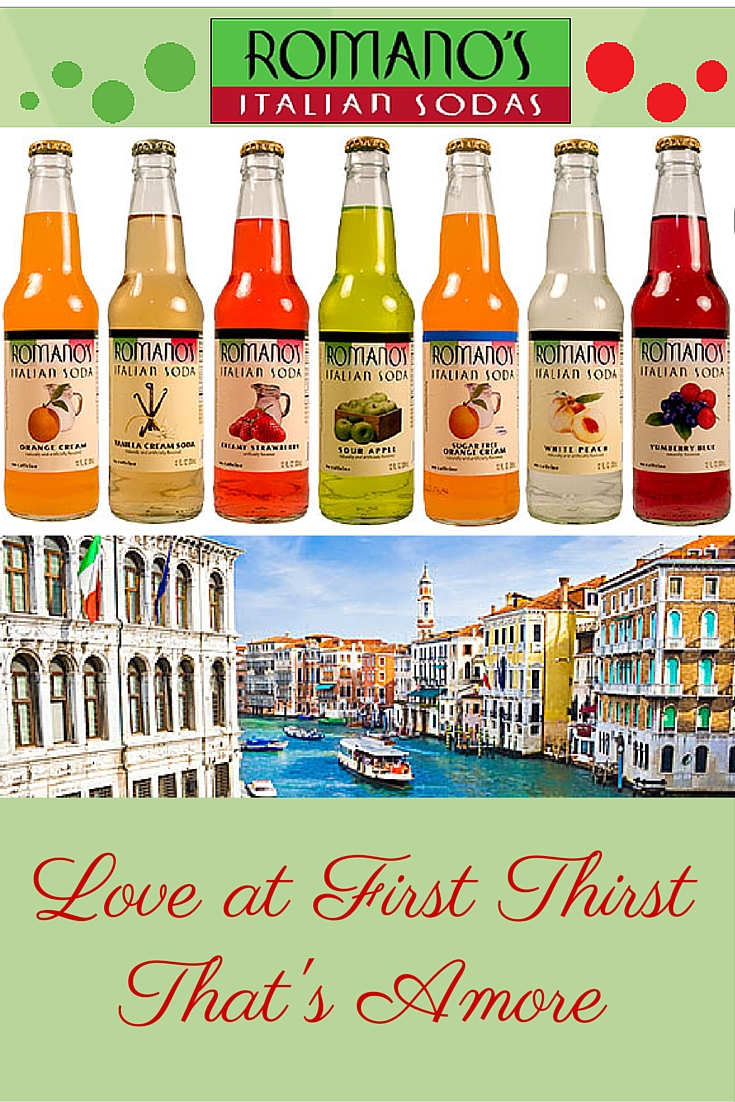 Romano Pastega immigrated to the US through Ellis Island in 1907. He came from a town north of Venice, Italy, called Possagno. Romano's first job was with the Southern Pacific Railroad laying track through the Sierra Mountains. His wife to be, Giuseppina Cunial, came to the US in 1912 and they were soon married. They were together for 54 years and had eight children, with only two children surviving. The children's names were Mario (b.1916) and Bianca (b.1931)
Mario married Alma Marie Solari and together they had five children - daughters Emilie Jo and Lisa and sons Gary, Ken and Denny.
Mario continues to expand the Pastega family legacy as an active philanthropist in the Willamette Valley. He carries on the tradition of hard work and goes to work every day at the Pepsi Cola of Corvallis, Oregon office that he has owned and operated since 1916. Mario and a partner, Leo Bocchi, also owned Pepsi distributorships in Tillamook, OR and Medford, OR, which they purchased in 1986.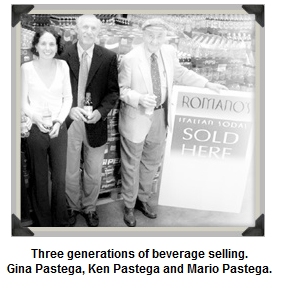 Mario's son, Ken Pastega, was manager at the Medford location and during his tenure there, he created the Romano's Italian Soda line.
"I kept seeing people in coffee shops and restaurants order Italian sodas, only to receive a drink that lacked sophistication," explains Ken Pastega. "There was no consistency in its creation. Sometimes the bartender or barista added too much syrup and other times not enough syrup. Customers never knew what they were getting."
Ken Pastega was convinced that people would buy these delicious drinks if available because he had seen people's interest in Italian sodas increase in recent years. The idea of bottling a gourmet drink only lingered in Pastega's mind until he obtained the trademark for Romano's - so the beverages could be named after his grandfather.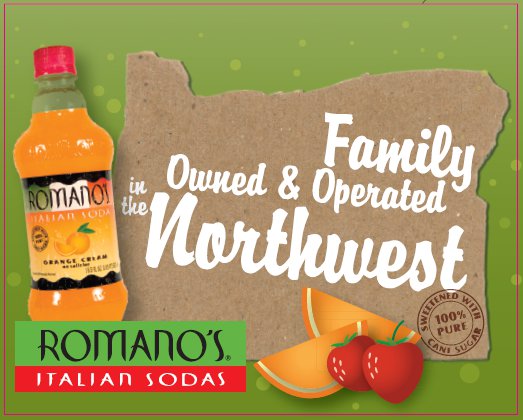 "It has been fun because although we've been in the soft drink business for years, we've never done anything like this. To develop our own drink has just been a blast," says Pastega.
Romano's Italian Soda Company was spun off the summer of 2005 from Pastega Beverages and is run as its own company. It is dedicated to recreating delicious Italian sodas so everyone can enjoy them. With Romano's there is no inconsistency.
Romano's Italian Soda Company brings new energy to a family business tradition.
Romano's Italian Sodas offer consumers the refreshing, flavors of Italy locally in the Northwest. And with the help of SummitCitySoda.com, Romano's Italian Sodas are now available throughout the US.
To get a case shipped to your doorstep, Click Here.
Flavors Include: Romano's Orange Cream Italian Soda, Romano's Vanilla Cream Soda Italian Soda, Romano's Sour Apple Italian Soda, Romano's White Peach Italian Soda, Romano's Yumberry Blue Italian Soda, Romano's Creamy Strawberry Italian Soda, and Romano's Diet Orange Cream Italian Soda
Once you've had the pleasure of enjoying an ice cold Romano's Italian Soda, we'd love to hear your comments. Post them on our Facebook page or email them to sales@summitcitysoda.com.